Brazil and Barcelona forward Neymar has been left out of the team that will participate in the Copa America but will take part in the Olympics.
This has ended speculation that Neymar will be competing in both tournaments. Dunga has finally accepted Barcelona's request that their player should participate in only one tournament during the summer.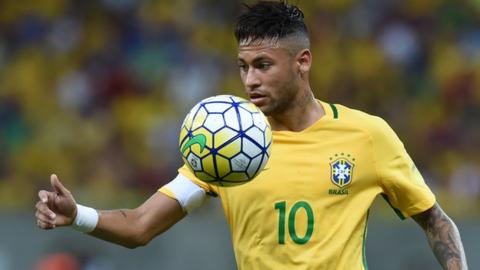 Dunga has announced his squad for the Copa America and believes that the team is good enough to win the tournament. Both Phillipe Coutinho from Liverpool and Willian from Chelsea are in the team that will be participating in the
Centenary edition of the Copa America which will be held in the United States
.
Dunga stated that the Brazil team will be able to manage without Neymar. He recognized that he is an important player for Brazil but believes that he has other players in the team that can replace Neymar in the Copa America. He said that Brazil has already played without Neymar and that they will be able to do it again at the Copa America.
Brazil has been drawn in Group B, which consists of Ecuador, Haiti and Peru as well. They will start the tournament by facing Ecuador in their first match in California.
However with the Olympics being held in Brazil, this time, the football team will be under pressure to win the gold medal especially after the humiliation they suffer during the World Cup. For this reason, Dunga might have chosen to select Neymar in the team so as to give his team a much-needed boost in the Olympic football tournament. Indeed, this is the only tournament that the Brazilian side has failed to win on the international scene, and they will want this to change this year.