05.9.17
Brazilian superstar Neymar is set to return to action having served his suspension.

He featured in Barcelona's 3-0 rout of Espanyol and he is poised to do more as Barcelona make the last push for the La Liga title this term.
After their El Clasico surprise victory, Barcelona need Real to slip just once so they can retain the domestic league in which they have dominated far longer than their competitors in recent years.
On a personal level, Neymar may not have been as impressive this season. He has netted just nine times this season in the local league unlike Lionel Messi who has scored 33 goals and Suarez who has a total of 26. With just three league games left, the sterling forward is yet to reach double figures – something many would expect. Read the rest of this entry »
01.12.17
Zinedine Zidane has lavished praises on Cristiano Ronaldo after the Portuguese international deservedly won the Ballon d'Or for the fourth time in his career.

The Real Madrid coach stated on Wednesday that Ronaldo was out to prove he deserved the award by further leading his Real Madrid team to another Club World Cup title.
The Madrid star man who was voted the best player for the fourth time is his career would be leading the frontlines in Japan when Madrid face their South American opponent Club America in the club world cup semifinals on Thursday. When asked about the game, the Real Madrid coach said:
"Cristiano is hugely motivated for this game — as always.
"Obviously, we have many great players at Real Madrid but it's very rare one player wins so many awards," he added.
Ronaldo who is closing in on five times Ballon d'Or record holder Lionel Messi has helped his real Madrid team boss Europe for the 11th time. Read the rest of this entry »
11.18.16
Neymar has been in the headlines in Spanish football for reasons other than football.

The Brazilian striker has been criticised for his role in the bottle throwing incident during the 3-2 win for Barcelona against Valencia. Neymar is reported to have caused provocation from the away section of the fans with certain actions. The claims have been made by senior officials at Valencia with support coming in from the La Liga as well. Neymar was hit by bottles in the recent win. This led to an angry confrontation between Barcelona players and the fans near the pitch.
His Barcelona teammate Rafinha claims that there is a media campaign against Neymar and that the Brazilian is being unfairly targeted. It was a crucial success for the reigning La Liga champions, as they cannot afford to drop any more points in the league campaign. A shock 4-3 loss against Celta de Vigo at the start of October has put a lot of pressure on the team. Neymar failed to get on the scoresheet in the game against Valencia, as Luis Suarez and Lionel Messi repeated the trick once again. Read the rest of this entry »
08.20.16
After having cost almost £ 50 million, a player like Neymar with his supreme talent will consider himself as one of the best players at the club even as large as Barcelona.

However, the Brazil superstar has surprisingly omitted that Lionel Messi is the supreme power at the club and he has no shame in admitting this fact. Neymar also has no problem in playing second fiddle to Lionel Messi since he feels that the Argentine is the best in the world by a long distance. Neymar's future at Barcelona has been speculated a lot in recent weeks.
The club are reportedly ready to cash in on the player, who has only two years left on his contract. There have been signs of unrest from within Neymar's camp and Barcelona would want to receive as much as transfer fee possible for their star asset rather than let him leave on a free. After having been in and out of the national team in the last year, Neymar is hoping to help his Brazil national team win the Olympic tournament, which will be held on home soil this time around. The 24-year-old, though, will be the primary weapon for the Brazil national team and he will probably carry them around.
Read the rest of this entry »
05.13.16
Brazil and Barcelona forward Neymar has been left out of the team that will participate in the Copa America but will take part in the Olympics.
This has ended speculation that Neymar will be competing in both tournaments. Dunga has finally accepted Barcelona's request that their player should participate in only one tournament during the summer.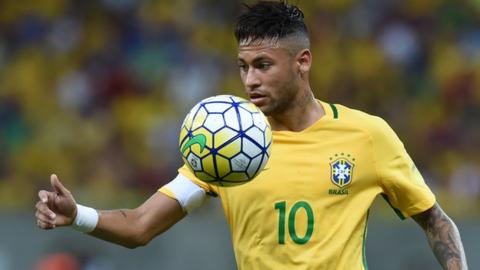 Dunga has announced his squad for the Copa America and believes that the team is good enough to win the tournament. Both Phillipe Coutinho from Liverpool and Willian from Chelsea are in the team that will be participating in the
Centenary edition of the Copa America which will be held in the United States
.
Dunga stated that the Brazil team will be able to manage without Neymar. He recognized that he is an important player for Brazil but believes that he has other players in the team that can replace Neymar in the Copa America. He said that Brazil has already played without Neymar and that they will be able to do it again at the Copa America.
Brazil has been drawn in Group B, which consists of Ecuador, Haiti and Peru as well. They will start the tournament by facing Ecuador in their first match in California.
However with the Olympics being held in Brazil, this time, the football team will be under pressure to win the gold medal especially after the humiliation they suffer during the World Cup. For this reason, Dunga might have chosen to select Neymar in the team so as to give his team a much-needed boost in the Olympic football tournament. Indeed, this is the only tournament that the Brazilian side has failed to win on the international scene, and they will want this to change this year.
04.28.16
It wouldn't be a week of sports news without some drama to follow the news. The former Brazilian coach Mario Zagallo has stated that he firmly believes Neymar isn't nearly as mature as he should be. However, Neymar is a great player and has an outstanding form for the country and the club. So, what do these comments mean and why does the former coach even care? What prompted him to fire some shots at Neymar in the first place and what's the reaction to his comments?
In only 70 short appearances, Neymar has scored a whopping 46 goals for the Brazilian team. This season Neymar is playing for Barcelona and has already scored 27 goals. It's a pretty impressive track record for a young 24 year old player who doesn't have as much experience as some of the other hard hitting goal scorers.
Zagallo's credentials aren't to be scoffed at either. Zagallo helped get Brazil to the finals in 1998 and was even a World Cup winner for Brazil in both 1958 and 1962. He won another one in 1970 but this time as a coach rather than a player on the field. The reason or the particular thing that prompted Zagallo's seemingly unnecessary comments about Neymar is that Zagallo feels Neymar has a lack of disciplinary action taken against him and taking his disciplinary record into account. Read the rest of this entry »
03.8.16
Chelsea continues dropping points after having lost their 2nd match out of their 4 opening games of the season.
This is not the way that Jose Mourinho was expecting to start this season as he has the task of defending his Premier League title but with such a mediocre way to kick off the 2015-16 season it seems unlikely that Chelsea will be able to defend their league title unless Mourinho and his team are able to bounce back from this recent slump.
Jose Mourinho seems to be playing the blame game and after having pointed his fingers on everyone, the Portuguese doesn't know what to do now.
The Portuguese took charge of his 100th Premier League game on August 29 when Chelsea faced off with Crystal Palace and lost 1-2. A few days before this match had even kicked on, Mourinho said that he would only celebrate his 100th match in the top tier England league if his team wins but they lost, it was a huge blow not only for Mourinho but for his team as-well as they continue to struggle.
Ever since the defeats started arriving, Mourinho's blame followed them as well. The manager of Chelsea began blaming his own player for a lack of spirit and according to him this was why they lost their opening match of the season which was against Manchester City and even if it wasn't a lack of spirit this defeat had to do with the players in it's entirety. Read the rest of this entry »
08.16.14
Video Ranking: 5 / five